Planning the ULTIMATE Office Gathering?… Dream Wedding?… Birthday?… Community Block Event…???
We would love to hear from you! If you have any questions.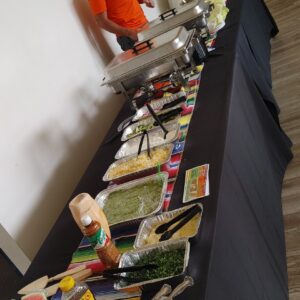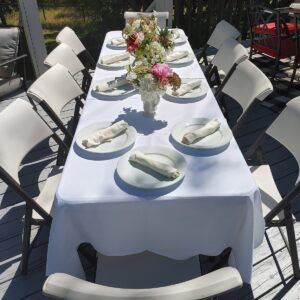 Flavor on 35 is passionate about delighting our community with our food, and that's why we've introduced completely flexible catering options for all types of events. Whether it's a cozy backyard barbecue or a lavish five-star dinner party, our crew is more than ready to assist!
What's exceptional about our flexible catering services? Every element, from starters to desserts, even down to the choice of cutlery, can be personalized for your unique gathering; and certainly, we're always prepared to make the decisions on your behalf, should you prefer.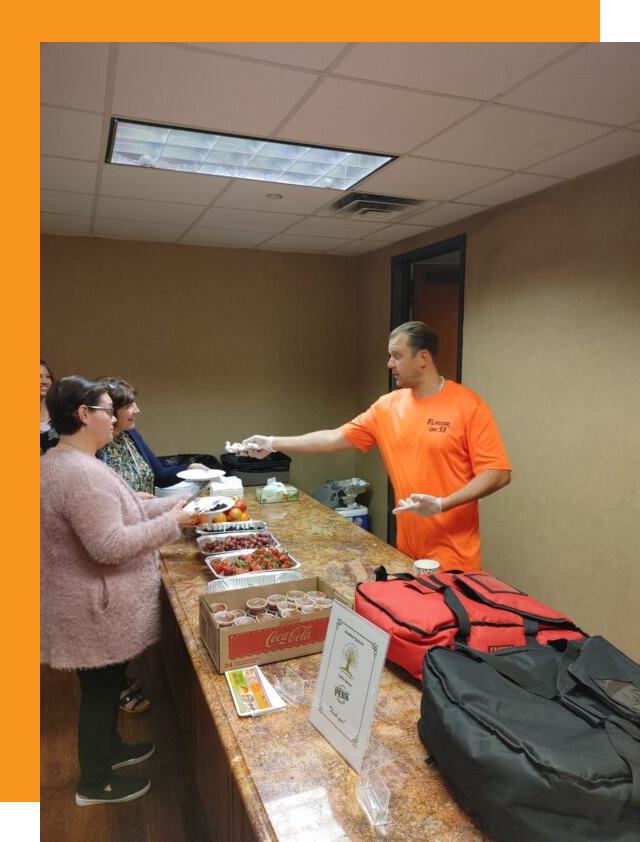 Cuisine holds the spotlight at any function, and employing a proficient catering service guarantees the utmost in food quality and superior service. Considering entrusting the culinary challenges to a caterer? Here are four compelling reasons why that's an excellent choice:
Food and preparation management.

Top-notch caterers handle every detail of the meal preparation, from procuring ingredients to the cooking and presentation. They ensure a well-organized and prompt service, so no guest feels hurried or overlooked. They also maintain sufficient quantities of each dish so that no attendee feels shortchanged. Organizing a large event can be demanding, but delegating the food preparation to a caterer allows you to concentrate on other significant aspects.
Delicious and high-quality food.

Your desire is for your guests to recall the exceptional food when reminiscing about your event. Skilled caterers employ top-tier chefs and utilize only the finest ingredients, guaranteeing your attendees receive mouthwatering and fresh fare. They also ensure that the food is presented at the perfect temperature and that the display is captivating.
Time and cost efficiency.

You aim for optimal value for your investment, ensuring you don't overspend on aspects that could be managed economically. Engaging a caterer is a superb method to incorporate time and cost efficiency in your planning. A professional caterer comprehends the nuances of catering, proposing the most cost-effective solutions while ensuring your event's smooth execution. They'll also assist in adhering to your budget by recommending methods to economize on ingredients or services.
Professional guidance.

Engaging a professional caterer provides the advantage of having a skilled expert at your event, rather than depending on hearsay or risky experiments regarding guest food allergies or tastes. You'll find reassurance in knowing that every detail is managed by someone possessing years of experience in coordinating events similar to yours—someone who's familiar with the quantity of appetizers required per attendee, the appropriate plate sizes, the necessary number of servers per hour (or minute), and so much more!
At Flavor on 35, our dedication lies in delivering outstanding catering services for extraordinary occasions. Our mission is to serve top-quality meals so your attention can be centered on the ones who truly count—letting them know how much you value their participation at your event. We will collaborate closely with you to assure that your event unfolds seamlessly. We'll attend to every detail, big or small, allowing you to savor the moment while we whip up delectable food from scratch!
Whether you're planning a grand wedding ceremony, a cozy wedding, or a home-based wedding, we understand that each event is unique and deserves a personalized approach. We'll work with you to craft a package that reflects your vision, considering the number of guests and any specific requests.
Full-service Wedding Catering
We've got all your needs covered. Our full-service wedding catering packages include everything needed for your big day, from delectable appetizers and salads to savory main courses and indulgent desserts. We'll even provide all necessary cutlery—including napkins, plates, and silverware—to ensure your guests are well catered to at each stage of the meal.
Intimate Wedding Catering
If you're hosting a smaller guest list (under 100), our intimate wedding catering package is the ideal solution to provide your loved ones with a range of dining options without overwhelming them or leaving them feeling overly full. This package includes everything from hors d'oeuvres to desserts.
Full-service Wedding Catering
If you're tying the knot at home or in a location other than a conventional venue, our home wedding catering package is perfect for ensuring that everyone enjoys delicious food throughout the event, without straining your budget! This package includes appetizers, entrees, side dishes, and desserts—you just choose what best suits your needs!
We provide customizable packages, from office meals to corporate social events, that will meet your requirements and budget. Regardless of whether it's a small office gathering or a lavish corporate function, we have the ideal catering package for your organization.
We can whip up simple meals in a matter of hours, or larger meals that are ready just in time for your business meeting. Office meals are perfect for those days when there's no time to leave the office for lunch, or when your employees have staggered meeting schedules throughout the day. We'll deliver meals right to you, so you never have to step away from your desk.
Office Social Events and Gatherings
There are times when you may crave a bit more variety than the usual office meals that you've been having for years—you need something extraordinary. Our corporate catering services will provide you with exactly what you need.
We comprehend that your event is a distinctive occasion, and we are committed to making it as memorable as it can be. Our catering services are tailored with you in mind, and we'll go the extra mile to ensure your event is flawless. We provide custom packages for all sorts of celebrations, including baby showers, rehearsal dinners, children's parties, debut celebrations, graduation parties, and much more!
Our baby shower catering services encompass everything from aiding in planning the menu and decor to serving the food at the gathering itself. Whether you're in search of a simple finger food buffet or something more elaborate, we can supply the food and service that you require.
Many people overlook the extensive planning involved in a rehearsal dinner. However, when you engage our rehearsal dinner catering service, all that planning will be handled for you. We'll assist in coordinating every aspect of your event from start to finish, leaving you to simply enjoy the company of your friends and family.
Your child's birthday party is meant to be vibrant and enjoyable. Amplify their special day with our kid's party catering services. We'll help establish a fun and entertaining experience for your child and all their friends while providing delectable food for them to savor.
Is your beloved daughter turning 18? We have a variety of options for debut catering—including sit-down dinners and hors d'oeuvres. We'll guide you through some of our most favored menus if you're undecided about what kind of food will best complement this significant event
Graduation Party Catering
We provide graduation party catering packages that are guaranteed to transform any graduation festivity into a memorable event! We will collaborate with you to curate a custom menu based on your needs and budget to ensure your guests depart feeling sated and pleased.
We possess birthday party catering packages that will gratify even the fussiest eaters! Our birthday party catering package comprises everything you need for a successful event. We'll supply everything from the linens and plates to the food and drinks—all at a single economical price! With Flavor on 35, all you need to do is invite the guests and make your appearance at the event!
Anniversary Party Catering
If you're hosting an anniversary party or other celebration that necessitates a more elegant setting than your living room couch, our anniversary party catering package will help make it feel like an event worthy of your guests' attention.
And Many More Event Catering Packages
No matter the event or gathering you envision, Flavor on 35 can assist you in making it a memorable occasion. We offer a variety of flexible catering packages and will work with you to find one that perfectly accommodates your needs. If none of our options quite hit the mark, we'd be thrilled to craft something custom-made just for you!
If you're contemplating something a bit more personalized, we offer special event catering packages that are ideal for your upcoming gathering in Lorena, Texas, and the nearby regions.
With our Mexican Food Catering Package, you can select from any of our delectable and authentic Mexican dishes. We have solutions for every type of event, ranging from intimate parties to large-scale gatherings. We can supply exactly what you require, whether it's a comprehensive meal or just the perfect nibble.
Perhaps you want to provide your guests with something unique… like a taco bar? Our Taco Bar Catering Package lets you select the components for your guests to assemble their own tacos. You can choose from a multitude of meat and vegetarian options, including chicken, beef, pork carnitas, and more. Plus, we'll provide all the necessities you need to concoct fresh salsa, guacamole, and even pico de gallo.
If sandwiches are more your speed, our sandwich catering package is just the thing for you. You can choose from a variety of breads and fillings, including turkey and roast beef. And we'll supply all the fixings you need to prepare fresh coleslaw or potato salad, along with mayonnaise for the sandwiches.
A Bite of Flavorful Food. A Pinch of Personalized Service
At Flavor on 35, we firmly believe that the key to superb catering lies in a blend of high-quality food and tailored service. It's insufficient to merely have delectable meals—it's crucial that they are presented in an aesthetically pleasing and orderly manner as well. And it's implicit that your guests deserve considerate and respectful treatment.

Our longevity in this business stems from our honed formula. We source only the freshest ingredients and provide an extensive variety of menu choices for any event. We are committed to ensuring our clients feel appreciated, from the moment they schedule their function until every single attendee has departed the celebration—satisfied, joyful, and carrying fond memories they'll treasure for years.

Experience the freshness and quality of our cuisine, and you'll understand why we're amongst the leading catering services in Lorena, TX. Our squad comprises seasoned chefs who not only craft excellent food but also go above and beyond to ensure your event aligns perfectly with your vision.

We've catered numerous events in Lorena, TX, and if necessary, we can provide a list of references. Our catering package encompasses everything you need to make your event a triumph. We offer a vast selection of menu choices and can modify any item to cater to your preferences.

Please contact us at (254) 900-5533 or complete the form below with any inquiries or comments. We eagerly await your correspondence!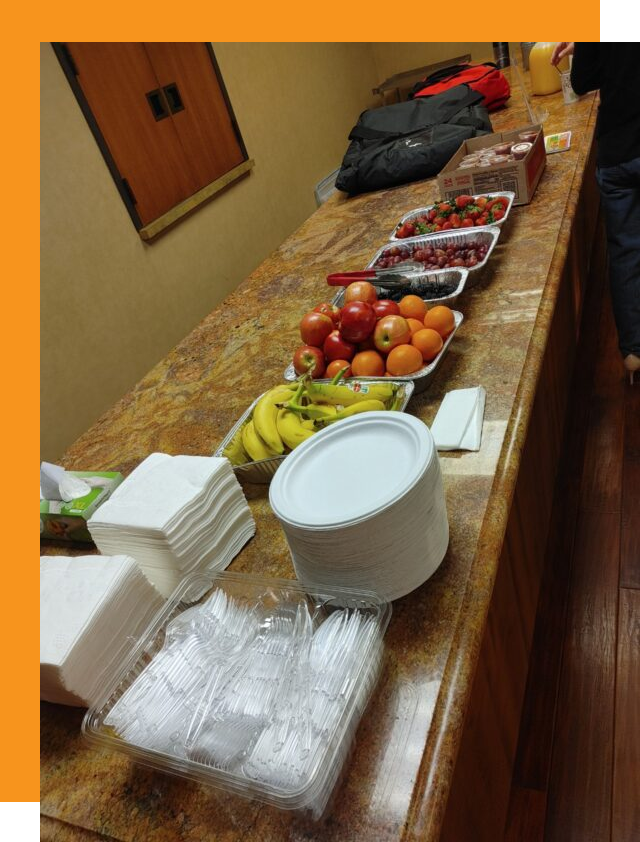 We'd be delighted to provide you a taste of our cuisine before you schedule an event with us. How about joining us for a unique tasting experience? We're confident that you'll not find superior food or service anywhere else.

Reserving a tasting experience is the optimal way to appreciate what Flavor on 35 can bring to your event, and to personally sample our delectable offerings! We'll guide you in selecting from our signature menus or collaborate with you to fashion something bespoke for your event. You'll have the opportunity to sample all the dishes that compose the menu, along with complementary beverages and desserts, to witness how everything harmonizes together in a real-life setting..

You'll also get the chance to meet the entire crew who'll be orchestrating your event—from our chefs and servers right up to our administrative personnel—and pose any questions you may have. Our food tastings and samplings are designed to be enjoyable and casual, allowing you to unwind as we skillfully bring your vision to fruition. Secure your tasting experience today!
Sign Up for Our Newsletter
Receive Special Alerts, Coupons,Event Notices, and more when you sign up today!